Ken's Koaching Korner
I've been involved with sports and physical training for as long as I can remember with the privilege of working with some fine coaches and athletes
The Royal Marines training was physically very demanding giving me an insight
of the limits to which one can be pushed
Session 1
Getting started and discovering what you are and just what your physical goals should be
When you begin a fitness regime it is vital to have a long term plan but the first thing to establish is your personal fitness credentials.
1) How fit are you?.... Don't know?... Why not get a professional to check out your exact fitness identity... If you want to improve your health this will be a great way of starting and worth every penny you might spend because knowing the correct direction to take with full confidence is crucial...A visit to the doctor will help establish your targets... Some gyms offer fitness assessments, check them out. Having a measurement, fat percentage,, height and weight, blood pressure and heart rate observation can give a valuable indication of your fitness status.
2) From the very start, get to understand a training schedule or program... Most gyms offer a induction but an initial induction for one session isn't really enough... Think about having 2/3 sessions of personal training, some of the Maltese rates are among the best value in Europe. The confidence you will get from a few sessions of personal training may well be the key to beginning a lasting association with fitness and better health.. for life. Your personal trainer will explain different exercise along with specific body targets to work on and how to get the best results.
3) Once you have got going into a fitness schedule put this into your mind.... Your physical health and personal appearance count for a lot...So don't use the common excuse that you don't have time because if unfortunately you become ill you'll have time to be sick. How many times a week should you exercise?... Once is better than nunce. Twice, is twice as good, and three times a lady will make you feel better than listening to that old Lionel Richie song. Four times is better than four-going the regime. Regular exercise is definitely the master key here. Exercise can last as little as 20 minutes, so don't get carried away or have a guilt complex for not doing over long sessions. Spending too much time on exercise or beating yourself up are the most common switch off's for terminating the treadmill.... Variation? ... You betch ya.... Obtain a system that makes your exercise regime interesting. This can be done with a multi program schedule... Like everything, eating the same diet, watching the same TV, watching Chelsea win every game, can be a boring... Change the CD occasionally. Yes, I am a Chelsea fan by the way. Up dating a program regularly will help achieve faster results
4) Is weight loss the only reason to exercise?..... No Amigo, not at all. Joints need exercising, muscles need gentle stretching, blood become oxygenated and better quality when it pumps around your body. The heart is a muscle that enjoys controlled exercise making it more efficient. The enriched blood that exercise has stimulated will give a feel great mode, which in turn helps reduce the stress factor.. and we can all do with a break from that old misery. Your body immunity quite likes a dollop of protection that exercise develops and fitter people do get sick less often than non exercisers. oh and the old grey matter, the thinking organ, the brain, this excells a little better when oxygenated.... There u see, I couldn't spel ockygianted until i bygon xersize.... Yes, folks exercise really does reduce stress, and improve immunity, make you look better, think better.. and become a better.. how do you say in English, Maltese and French.. a whole better person
5) When can you start???????????
6) As they say. Yesterday is history, tomorrow is a mystery, today is a gift.... That's why we call it the present....
Drop me a line if you get stuck.. 79301038
Winter rowing
With the intense heat of a Maltese Summer sizzling your skin, it can be hard work keeping a personal level of fitness up. Some are content to keep a maintenance program going though July and August but now that winter is really here and the temperatures have dropped, it is time to push the level of your rowing schedule up a notch.
Stamina and endurance training are ideal for this time of year especially for those that like the ranking challenges that Concept 2 online ranking provide. Start hitting 5000 and 6000 meters for a few weeks of conditioning with consistent step up improvements then move up to 30 minutes and 10,000 meters. When your averages start improving on the 10000 go a step further and take a crack at the 1 hour time. It might be a good idea to start wearing padded rowing gloves before beginning the winter program and longer distances especially if your hands haven't yet developed calluses at the bottom of your fingers.
The endurance workouts will develop great aerobic conditioning and also strengthen the hamstrings, lower back and shoulder muscles. Your targets may be to ultimately improve personal 2000 meter times and this will be phase one of the way achieve those goals. As winter heads toward Spring the ultimate tests may well be chosen as the level of your fitness prowess and tackle the half marathon.
Use a log card as a personal trainer during this phase it will definitely keep the motivation high and morale high as you achieve.
Good luck
Ken
Watch out for regular Ken's Koaching Korner sessions
Daves' Muscle building tips
Bench press
One of the biggest upper-body compound movements in weight training. Apart from working your pectorals it also works your triceps to good effect.
Lie flat on a flat bench and make sure your legs are about 2 feet apart with your feet flat on the floor. Grip the bar keeping your hands 3 feet apart, take the bar off the rack and straighten your arms up, but donít lock your elbows. Lower the bar towards your nipples and stop the bar at around Ĺ inch off your chest, this should take around 3-4 seconds. Immediately start to lift the bar to the start position, this should take around 2-3 seconds. It is important to inhale deeply as you bring the bar down and exhale deeply on your way back up.
Always stretch & warm up before lifting, I recommend 25 reps using the bar alone, move up to 50% of your maximum for the first set(10-12 reps), 70% of your maximum for your second set (10-12 reps) and your maximum (last set) should be a weight you cannot lift for more than 12 reps. Concentrate on your chest throughout. Make sure you lift the bar straight and the weight is distributed evenly.
Never try to go too heavy and compromise strict form, at best you will NOT grow and at worst you can seriously injure yourself.
Stick to these tips for good form and your chest should be bulging in no time.
Position 1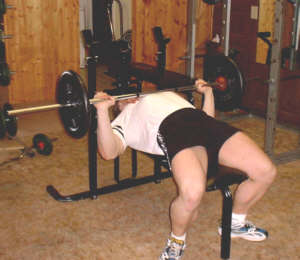 Mid point and preparing to push up whilst exhaling